Transparency - a catalyst for change
Rewriting the rules of the game
With CANO, we strive to rewrite the rules of the game: To make fair and sustainable fashion the new normal. In our humble opinion, we argue that transparency is vital for this change. It is important for brands and retailers to be open about their fashion supply chains, business practices and the impact of these on their workers, communities, and the environment.
Of course, transparency by itself doesn't mean that each company will suddenly become 100% sustainable and fair. Transparency simply means that companies will communicate openly about what they do and how they do it – both good and bad. That way, transparency forces businesses to look in the mirror, and hold themselves accountable for their decisions. Simultaneously, transparency gives us as consumers the opportunity to support businesses that act responsibly, paying their workers fair ages and taking better care of the environment. If a company would still be polluting and paying their workers less than the living wage, transparency would make it unlikely that they succeed: Who would want to – knowingly – support such practices? In other words, with transparency in place, the power is given back to us, consumers.
Ultimately, we as consumers get the power to change the market in the direction we I want to see. As Sarah Ditty, wrote in the Fashion Transparency Index 2020,
When consumers are equipped with more - and better quality, credible - information about the social and environmental impacts of the clothes they buy, they are able to make better-informed decisions. As a result, transparency builds trust in the brands they buy anda lack of transparency can damage the brand's reputation.
- Sarah Ditty, Fashion Transparency Index
We, as CANO profoundly believe in transparency. Knowing our artisans and our supply chain, has really helped us to develop as a brand and to create partnerships that continue to empower us to be better every day. Of course, we want you to feel comfortable in your CANOs, knowing that they are created with love and with the best materials. That is why we are very proud to announce the newest addition to our webpage!
We integrated a powerful transparency plugin on each of our product pages. The created by retraced, a blockchain-powered transparency
platform, allows us to share all the information about our product
production with you. The first look of the plugin is a series of simple cards
that give you a brief description about the product you're looking at. If you
click on the tool, it will show the whole supply chain overview. You can
click on every supply node to get more specific information, like its
location and the name of the founder. You can even look at photos of the
people involved in the making of the product!
Lukas Pünder, co-founder of retraced, explains that the claims on the plugin are truly valid.
With blockchain, you have the chance to really make sure that the data that is stored is actually tamper-proof and cannot be changed afterwards.
- Lukas Pünder, co-founder CANO & retraced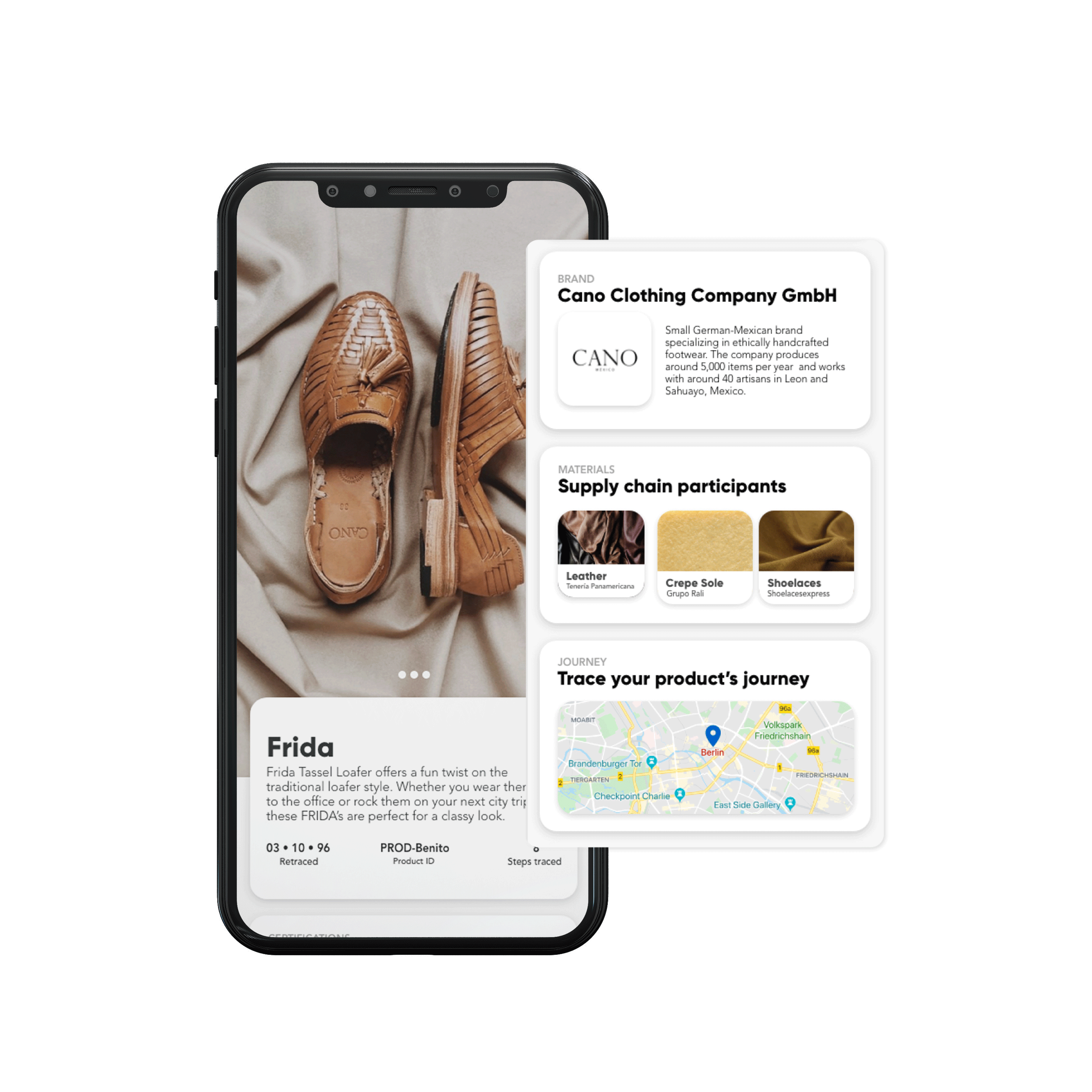 The retraced plugin has a badge system, that gives you as a consumer insight in the social and environmental sustainability of a company. Companies can claim a series of badges, such as Fair Working Conditions, by having actual legal proof. The badges are pretty self-explanatory; if a company has a specific badge it will appear colored. If not, it will show up in greyscale. When you click on any of the badges, it will display a more in- depth explanation of its meaning and a "Verified" status. This lets you know that the claim is proven, as it has gone through a revision and verification process with retraced. The best part is that you can actually see the proof for this claim at the bottom of the explanation!
The following sources were used for this article:
Written by Sanne van Egmond and Alejandra Díaz de León
Leave a comment