What's My Size?
FIND YOUR PERFECT FIT
WE ALL LOVE A SHOE THAT FITS PERFECTLY
Artisanal and handmade shoes have a unique fit and size construction, therefore we recommend to follow our guide to find your CANO size.
HOW SHOULD HUARACHES FIT?
They should feel like a "hug" to your feet.
Or something like wearing a second skin, (flexible enough that you can freely move your feet and toes but tight enough not to let them wiggle arround.
Besides that, natural leather reacts to the environment and usage conditions, therefore some days they will fit tighter than others. If you wear them for longer periods they will become a bit loose, but when they are left unworn for the Winter the leather will slightly and naturally shrink (this will be gone after you wear them again).
Brand new shoes are ready to get adapted to the shape of your feet and since every feet is unique, then the process is as well.

CANOs might feel a bit stiff at the beginning, but after a couple of wears they will become more flexible on the spots you need them to be.

Here are some tips to make the "breaking-in" period easier:
1. wear your CANOs with socks a couple of days at home and for short periods, this will gradually shape them to your feet blisters & pain FREE. (don't bring them directly to a long dancing night).

2. wear a band aid on the spots where you feel preassure or friction with the skin, this will keep your feet blisters-free.

3. after 3-4 wears they should have "adapted" to your feet and you will realize how perfectly they fit and how comfortable they feel.
I. Measure your feet
Length:
a. place your foot against the wall or a flat surface and step on a white paper.
b. mark with a pen at the tip of your big toe (leaving a bit of space -5mm- to comfortably move around the shoe).
c. measure the lenght of the line with a ruler.
Width:
ball grith is the circumference around the joint line of your toes. Should be meassured with a metric belt or with a cord and then meassured with a ruler.
° ° °
II. MATCH with style & size chart
All our stlyes are constructed by a different shoe last (foot shape), therefore they have different size charts and recommendations.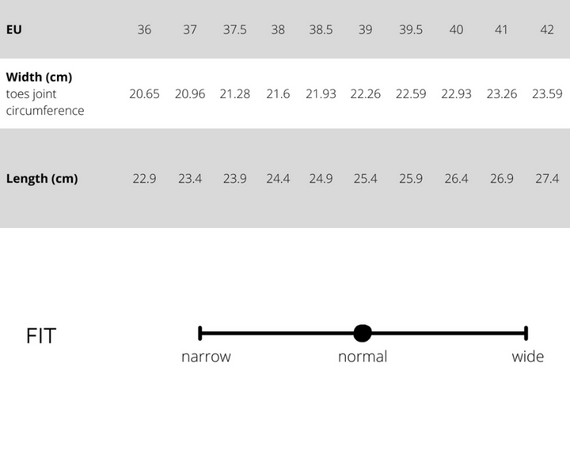 Benito, Elena, Emma, Isabel, Lola & Mara
They have a normal width fit

- sizes 36 - 38 | the length fits true to size
- sizes 38.5 - 42 | is recommended to order one size down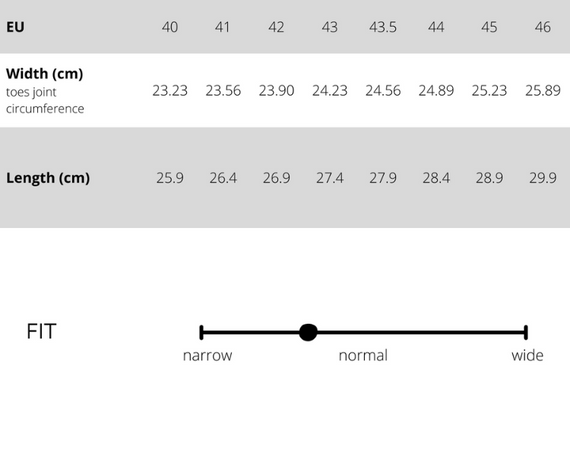 Benito, Hidalgo, Javier, Julio, Mara, Zapata

They have a narrow fit, we recommended to order one size up, specially for the sizes 43 - 46.