OUR APPROACH TO
SUSTAINABILITY
PEOPLE & PLANET FIRST,
ALWAYS.
We combine ancient craftsmanship techniques with innovative production processes to create Earth-friendly & long-lasting pieces, showing that we can work on a sustainable future while preserving the wisdom of the past.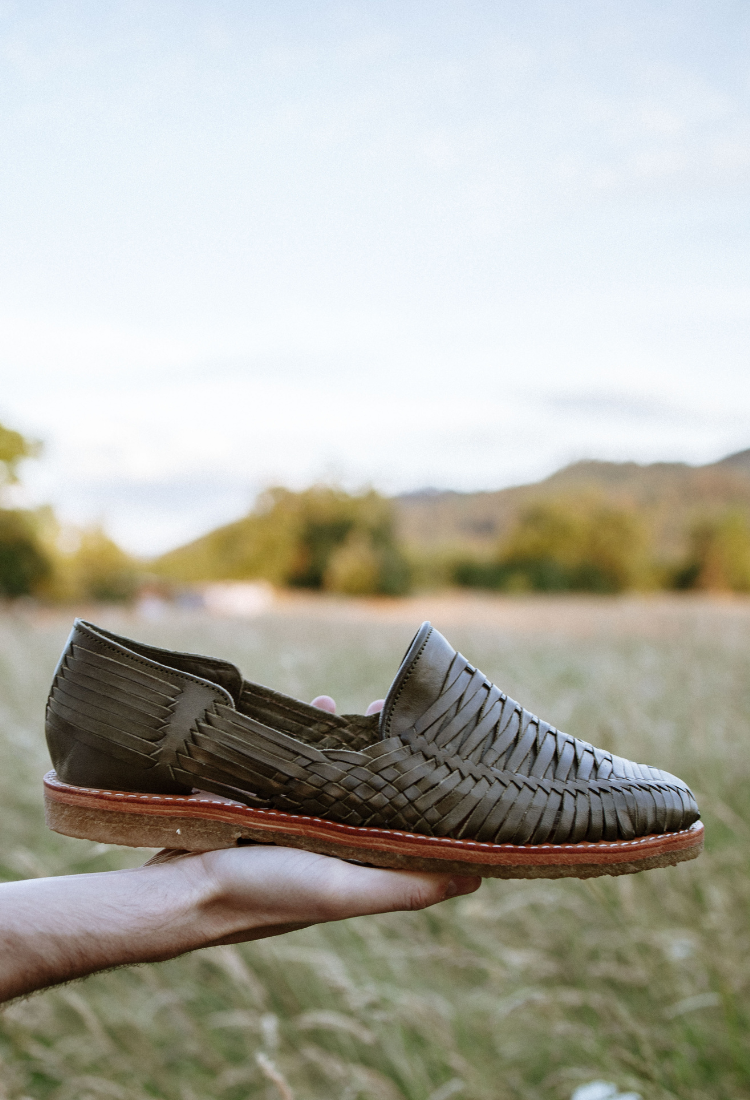 We take responsibility for protecting our environment by implementing processes and using materials that are less-polluting and organically sourced.
We also work with suppliers that share our "planet-first" philosophy and count with certificates that ensure high-quality materials that protect the environment.
INTENTIONAL DESIGN
Our pieces are consciously designed to become a wardrobe essencial, following an atemporal and timeless style. We aim to manufacture long-lasting pieces made with high quality materials and artisanal techniques.

REGIONALLY CLOSED MANUFACTURING
We have consciously chosen to have our production in Mexico and to work with local partners from Jalisco and Michoacán, to keep our transportation distances short and emissions low while ensuring the most positive social impact.
Learn more about our Vision
sustainably sourced
Materials
Huaraches have been traditionally made with real leather and we opted to stick to it for the following reasons:

- It is an incredibly durable material (when taken good care of).
- It is more naturally biodegradable compared to some plant-based alternatives.
- It provides the perfect flexibility and sturdiness required for our special hand-woven technique. Which allows our shoes to be super comfortable and to adjust to the shape of your feet.
- Plus the cowhides we use are a byproduct of the meat industry (solving waste streams).
Natural crepe comes from the indigenous South American tradition of collecting* sap (latex substance) from the Hevea (rubber tree) and then curdling it into thick blocks.

Crepe rubber turns out to be an incredibly flexible and resistant material, giving our shoes the perfect grip while being extra comfortable. This phenomenal material provides long-lasting durability while being 100% biodegradable.

*The sap harvesting process actually helps the trees to thrive.
ECO- CERTIFIED LEATHER (BOOTS)
The tanneries we work with commit to environmental stewardship and are certified by the Leather Working Group, which audits the tanneries' manufacturing practices, operating permits, raw material sourcing, traceability, use of restricted substances, energy consumption, water usage, air and noise emission and waste management.
Learn more about our partner tanneries Beruma, LeFarc and Panamericana.
Our boots are equipped with an innovative sole made from used rubber tires that would usually go to landfill. We decided to give these tires a second life as soles for our boots, the recycled tire material provides extra durability, grip and, support.
Our jewelry is crafted with upcylced and recycled metals.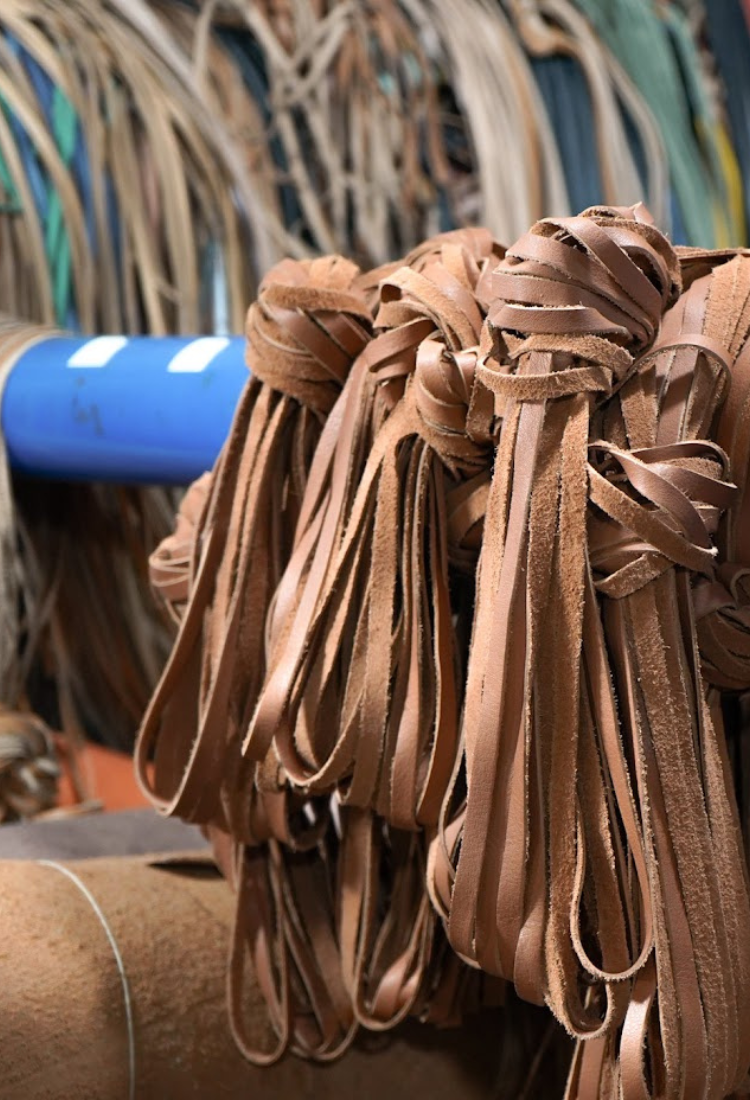 Vegetable
Leather Tanning
The leather used for our huaraches, is vegetable-tanned following a traditional, 200-year-old method and extensive 14-step process that takes up to 28 days.
The cowhides are dyed using plant and earth-based tanning agents instead of harmful chemicals and are naturally dried outside over multiple days.
We selected our suppliers in areas with strict regulations for water treatments, so the water used for tanning the leather is properly purified before returning to Mexico's beautiful rivers and oceans. 
Traditional
Manufacturing
We strive to preserve heritage craftsmanship skills that have been passed from generation to generation.
All our footwear is handcrafted following age-old techniques. A pair of huaraches can take up to 4 hours for just weaving alone. A true piece of craftsmanship, full of tradition and history.
Our Chelsea and charro boots are Goodyear-welted to ensure long-lasting durability. 
We produce in small family-owned workshops. This way, we can ensure our workers' rights and create long-term partnerships (that quickly turn into friendships too!). 
Read all about our Partners and our Fairness approach.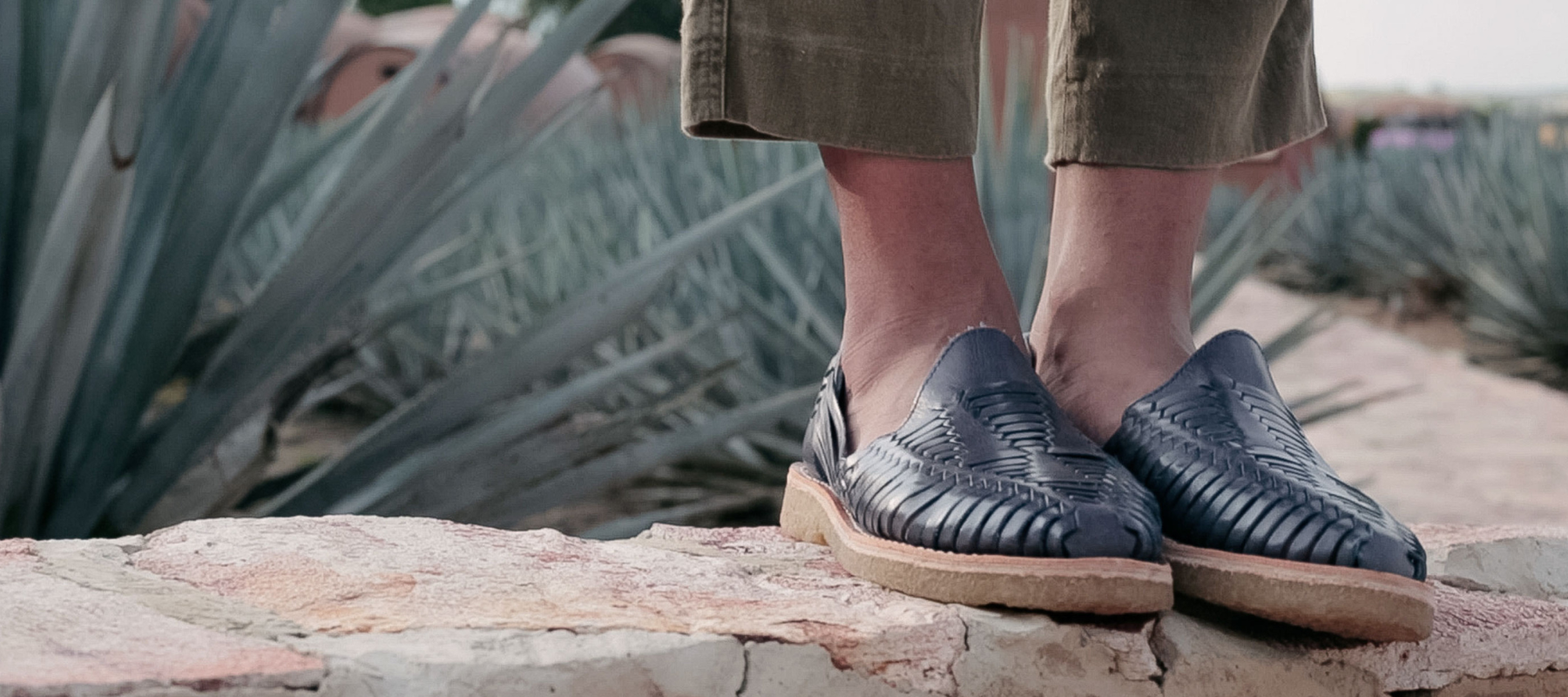 ONGOING process
We are constantly looking for alternatives that keep our impact on this beautiful Planet as low as possible.